Product Info
We carry a wide variety of stainless nipples threaded at both ends for various applications. Welded steel pipe nipples and seamless steel nipples are available with diameters ranging from 1/8" up to 4" in lengths from close to 72". View an
overview of our product offerings
.
Dimensions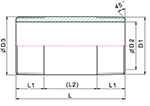 We stock a large inventory of high-quality steel nipples to meet your piping needs and specifications. Please review our
product dimensions
to confirm your specifications.
Pipe Sizes & Weights
There are many nipple sizes to choose. This
pipe chart
can assist in your selection and guide you to available, schedule 40 and schedule 80 welded nipple products available at Shaw Stainless.
Standard Specifications
View our Standard Specifications chart for help in deciding which nipples and pipe products you need to complete your piping project. View the
standard specifications chart
.
Stainless Steel Grades
We also carry a full line of stainless steel products. Learn about our stainless steel inventory, the functionality and application of various
grades of stainless steel
.
Reference Catalog
We designed the Shaw Stainless & Alloy Piping
Reference Catalog
as a resource for our clients to identify pipe products and services we offer. This catalog will identify steel nipple products, tube, pipe fittings and other pipe accessories. Specification charts and general dimensional illustrations will help you identify available galvanized nipple products in our inventory.
Theoretical Bursting Pressures
Learn about
theoretical bursting pressures
for various stainless steel pipe.
Additional Info
Pipe Cutting and Threading Procedure:
After pipe is cut to a tolerance of 1/16" of the actual length, a visual inspection of seams and welds is performed. Pipe is then threaded, if needed, to American Standard Tapered Pipe Thread standards with a 3/4" taper per foot. Quality pipe is always inspected for the roundness of threads and other visual imperfections as it is removed from the threading machine. Necessary corrections are made at this time to maintain a quality product.